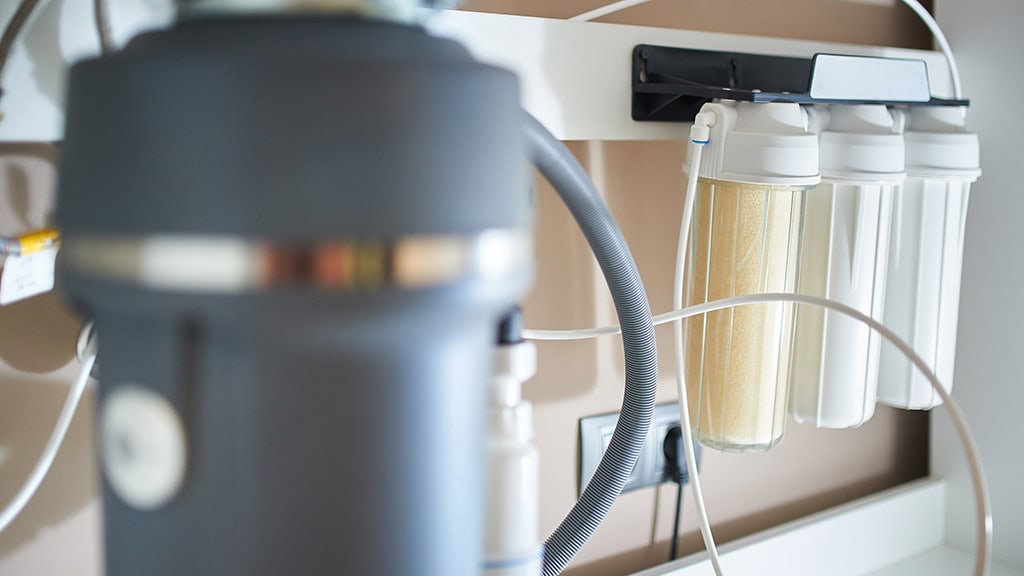 Does your Costa Mesa home have hard water?
Hard water refers to water with an unacceptable amount of dissolved metals and minerals in it, such as iron, calcium, and copper. Not only is hard water less than ideal for drinking, but it can also leave spotty stains on dishes and glasses. Ultimately, it can damage your dishwasher and washing machine.
Parzival Plumbing can install a water filtration system in your Costa Mesa home to help solve hard water issues and improve your plumbing system.
Our Parzival Pure™ water softening products use a process called ion exchange to filter out the materials that make water hard, bringing a number of benefits, including:
Less scale on fixtures and faucets
Fresh, clean water to drink and enjoy
Improved appliance efficiency
Longer-lasting drinking water filter cartridges
Spotless, sparkling dishes and glasses
Softer-feeling skin and healthier hair
Fluffier clothes, towels, and linens
Improved humidifier air quality
Call Parzival Plumbing at 949.229.7550 or request service online for a free consultation on how our water filtration systems can improve your comfort and health.
Improve the Water Quality in Your Orange County Home
You don't need to be a scientist to know the quality of water coming into your home has a huge impact on the health and wellness of your family.
It's easy to take it for granted in today's day and age, but when there are issues with your water quality, you notice it immediately. Water quality matters all around the house, from spotty dishes and scratchy clothes to water bills and damaged appliances.
Fortunately, there's something you can do about it. We're proud to introduce our new Parzival Pure™ water treatment solutions, designed from the ground up to deliver high-quality water that helps protect your well-being, your home, and the environment.
Entry point filtration to reduce contaminants like hardness minerals, sediment, and chlorine as they enter your home.
Point-of-use filtration reduces contaminants like lead and chlorine from water at the drinking water faucet.
Point-of-use reverse osmosis (RO) dramatically reduces potential contaminants in the water.
Do I Need a Water Filtration System?
A quality filtration system addresses common water issues such as:
Sediment buildup
Lead and other heavy metals
Asbestos
Hardness minerals
Chlorine taste and odor
Trihalomethanes (THMs)
Volatile Organic Compounds (VOCs)
Giardia, Cryptosporidium, and other cysts
Parzival Pure™ systems yield high-quality water by reducing and outright removing many of the most common contaminants. Isn't it time that you made sure your family's drinking and cooking water is as safe as possible?
Call Parzival Plumbing today and ask what water solution is right for your Costa Mesa home.
Trusted and Tested Parzival Pure™ Solutions From Water Quality Experts
You want your family to have access to the best quality water possible, free of chemicals and contaminants. We want to help you achieve that goal.
We're not just content with our own rigorous in-house testing. That's why many of our residential filtration and softening products are tested and certified by NSF International and the Water Quality Association (WQA), the water treatment industry's leading advocacy organization, to ensure that they meet industry safety, performance, and durability standards.
As an independent testing agency, the NSF International certifications are recognized by individuals from all walks of life. Consumers, manufacturers, other regulatory agencies, and industry associations such as the WQA, as the standard for consumer products designed to improve and protect your family's health.
We stand behind our products and the benefits they offer your family. Read our Google reviews to see what our customers say about our services!
Install a Water Filtration System in Your Costa Mesa Home
Parzival Plumbing is a trusted name for providing top-quality plumbing services throughout Costa Mesa, CA, and all the surrounding area. Call us at 949.229.7550 or request service online today.